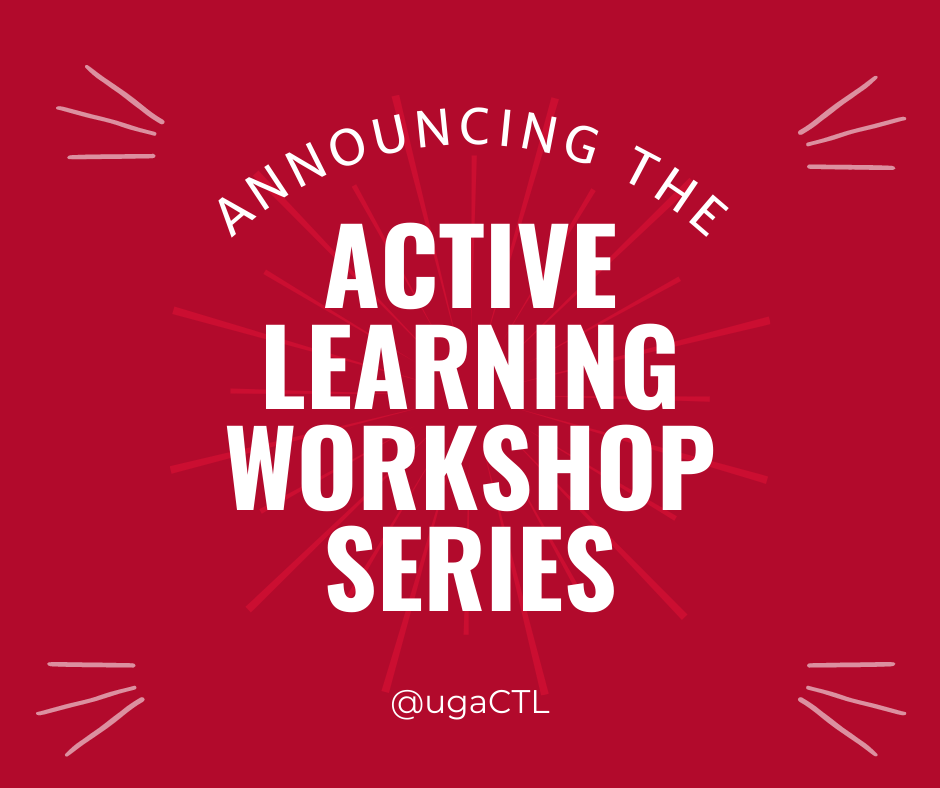 The Center for Teaching and Learning is excited to announce the launch of the Active Learning Workshop Series, a key programming element of UGA's Active Learning Initiative, which aims to promote a university-wide culture of active learning. This flexible, à la carte workshop series aims to empower and equip instructors to successfully implement active learning practices and related evidence-based teaching practices in learning environments across UGA.
The Active Learning Workshop Series consists of four introductory workshops (Active Learning Fundamentals), and eight advanced workshops (Special Topics in Active Learning). Each academic year, the Center for Teaching and Learning will offer all four Fundamentals workshops, as well as a rotating selection of Special Topics workshops. Although the workshops are numbered to help you track your participation, you can complete these workshops in any order you wish!
The Active Learning Workshop Series is one of two on-ramps to UGA's Active Learning Leader Certificate program. Instructors who complete a minimum of eight Active Learning workshops, including all four Active Learning Fundamentals workshops and a selection of four Special Topics in Active Learning workshops, will be eligible to apply for the Course Redesign Experience (launching in Spring 2025, call for applications to be announced in Fall 2024).
UPCOMING WORKSHOPS – FALL 2023
Download PDF Overview of All Workshops and Schedule Here
Active Learning 101
10:15 am – 11:15 am, Wednesday, August 23, 2023
2:30 pm – 3:30 pm, Tuesday, August 29, 2023
Active Learning is a fundamental feature of effective teaching and learning. But what does an active learning course look like from the instructor's perspective or across various disciplines? How does active learning support student learning and engagement? This workshop will allow you to explore how and why active learning facilitates student engagement, collaboration, and reflection.
Got it!? Assess Student Learning Just in Time
1:30 pm – 2:45 pm, Wednesday, September 20, 2023
9:30 am – 10:45 am, Thursday, September 21, 2023
Have you ever wondered how much your students are learning from what you just covered? How do you know whether your students are ready to apply what they have learned? Classroom Assessment Techniques (CATs) can help us to find out! CATs are simple and often ungraded in-class activities that help instructors and students alike monitor the teaching-learning process in real time. In this workshop, participants will have the opportunity to experience and discuss CATs and will gain practice selecting and integrating appropriate CATs into their teaching.
Designing and Facilitating an Effective Learning Environment
2:15 pm – 3:30 pm, Tuesday, October 3, 2023
10:00 am – 11:15 am, Wednesday, October 4, 2023
As an instructor, you have more control over the learning environment in your classroom than you might guess. Research tells us that when students feel a sense of belonging in your classroom and a sense that their instructor is invested in their success as learners, they are more likely to attend class, participate in discussions, and engage in learning activities. Importantly, there is also a great deal of reciprocal synergy between using active learning strategies and cultivating an effective and engaging classroom environment. This workshop will explore concrete strategies instructors can use to shape a learning environment that promotes student motivation, intellectual focus, and a sense of belonging.
Small Teaching, Big Impact: Integrating Lectures with Active Learning
2:30 pm – 3:30 pm, Thursday, October 17th, 2023
Did you know that some comparably small (but powerful) changes can have a big impact on student engagement and success? Drawing upon James Lang's "Small Teaching" book, participants will explore an inventory of small teaching practices that can be used in classes of all sizes (including high-enrollment courses). Participants will then customize a combination of small teaching practices to incorporate into their own teaching.
Facilitating Engaging Discussions
2:20 pm – 3:35 pm, Thursday, November 9th, 2023
How do we facilitate classroom discussions in which distinct ideas and multiple perspectives are shared? How can we prevent one or two voices from dominating the discussion? In this workshop, we will explore active learning strategies that establish built-in routines, support productive dialogue and active listening, and promote environments in which all students can succeed.
---
Keep track of your attendance with this Active Learning Workshop Series tracking form:
For additional information, contact Dr. Ching-Yu Huang, Associate Director for Active Learning Initiatives at chingyu@uga.edu.