Developed at Barnard College, Reacting to the Past (RTTP) is an exemplary undergraduate curriculum that places students at the center of the classroom by having them represent important figures and factions from particular historical moments in a role-immersion game. Tasked with using persuasive writing and public speaking to accomplish their character and faction goals, students utilize relevant primary sources to understand their roles and formulate successful strategies to win.

In doing so, RTTP is a high-impact, active learning pedagogy with demonstrable, evidence-based, profound learning outcomes. Reacting to the Past has been implemented at over 250 colleges and universities throughout the United States. It has been proven to enhance student motivation, critical thinking, moral reasoning, and consideration of divergent perspectives, as well as profoundly impacting student and faculty growth and independence.
I have long been a supporter of using "Reacting to the Past" materials in the UGA curriculum. Having participated at least once in a "reacting" event, I recognize that it can support cross-disciplinary thinking, which is a critical element of a 21st-century education. "Reacting to the Past" involves students in the skills that we know are essential in the modern economy – critical thinking, teamwork, problem-solving, and of, course, content knowledge. I recommend it highly.

University of Georgia President Jere W. Morehead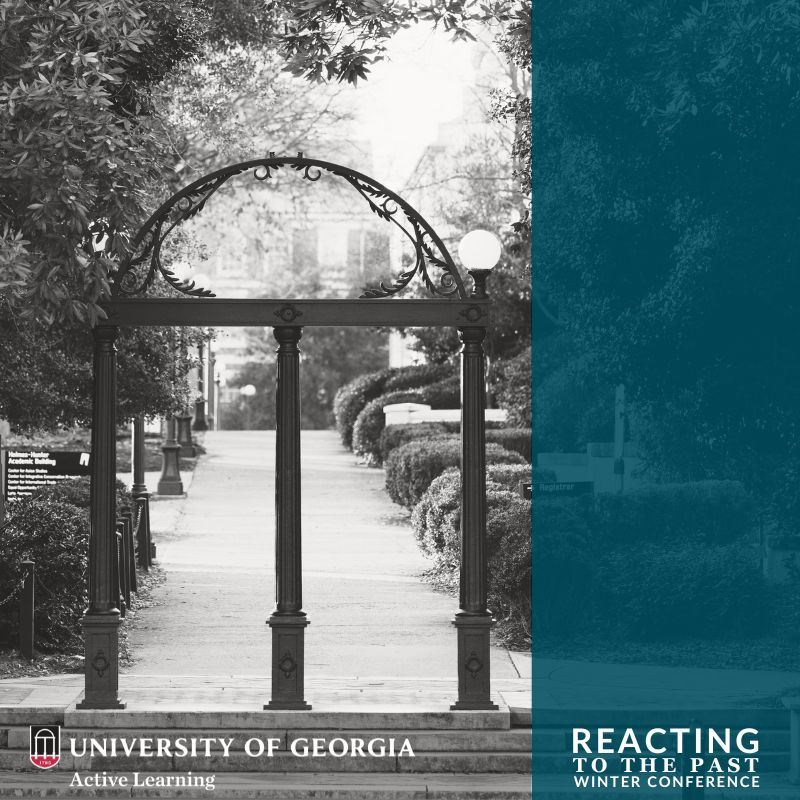 UGA to host Reacting to the Past's Winter Conference
The University of Georgia is hosting the 8th Annual Reacting to the Past Winter Conference on January 12th–14th, 2024, focusing on active learning. In order to continue the greater range of participation we have experienced in the last few years, we will once again host the Winter Conference in a virtual format. We hope this makes the conference and its content more accessible to the Reacting community.We are offering five games, three of which have never before been featured for play at a Reacting event, representing a broad range of geography, discipline, and era: Charles Babbage,Enlightenment in Crisis,1894 Korea: Kabo Reforms,Council of Nicaea, and the Election of 1912. The Conference Workshop on Friday night will focus on active learning: both how to "up your game," and ways to bring active practices to non-game classes.In addition to the game and active learning workshops, Leah L. Carmichael, the new Director of Active Learning at UGA, will give our keynote address. We are also including expanded breaks and social blocks to allow time to connect with your colleagues outside of the context of your game roles. Join us for all of this and more at the Winter Conference!